A hair transplant is increasingly seen as something normal by men and women. You read a lot about it and not only famous stars have been treated. Still, there are many questions about implanting hairs. Omorfy wants to make a hair transplant accessible to everyone, including you. That is why we explain what you need to know about hair transplants, before, during and after the treatment.​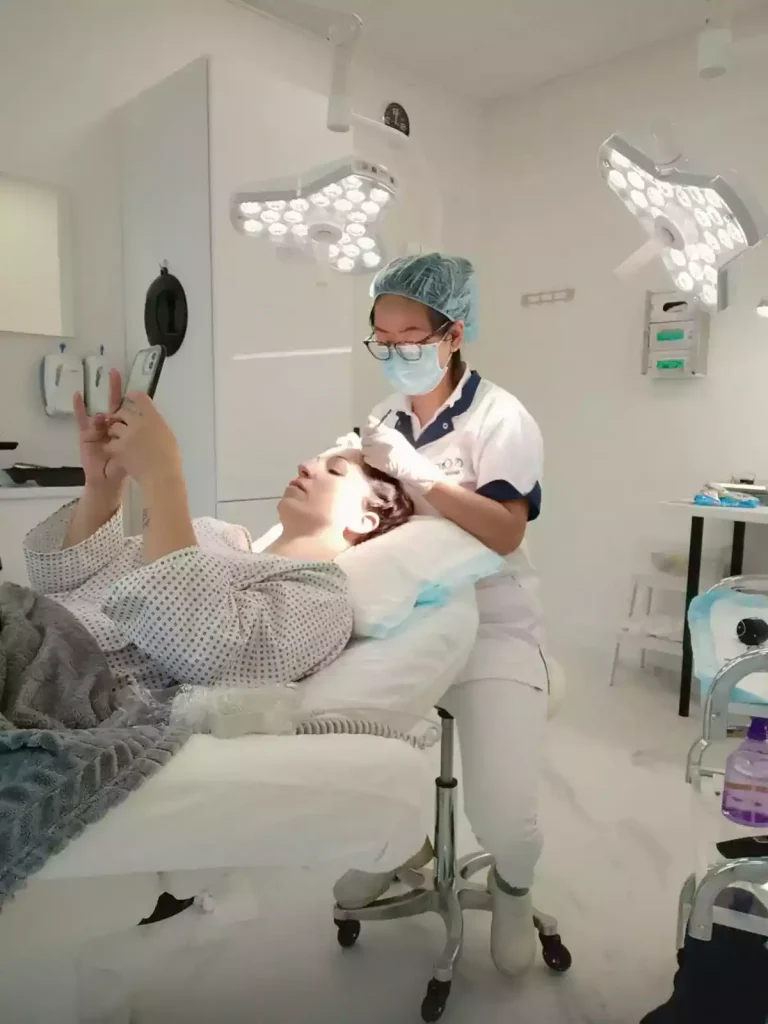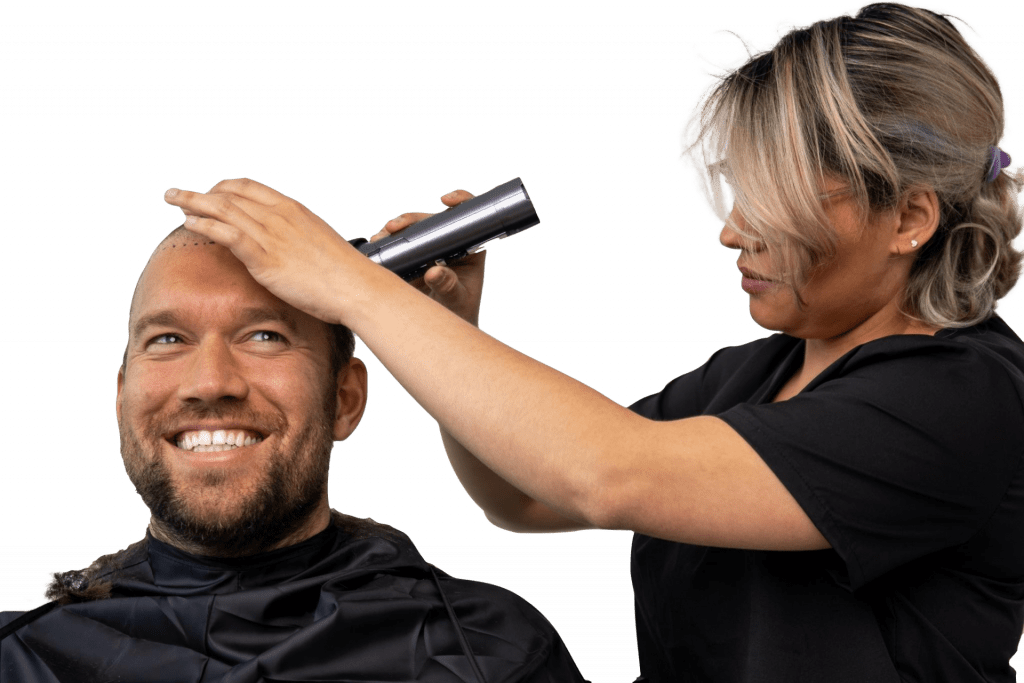 Hair transplant for beginning baldness​
Do you suffer from early baldness? Are there more and more hairs on the pillowcase, in the drain or on the floor? One is more bothered by this than the other, but it leaves no man or woman cold.
In men, baldness often starts with a receding hairline, deepening coves, a thinning crown and sparse patches of hair. In women, the hairline recedes, creating coves or bald spots. Pills or shampoo cannot regrow hair. The baldness is more and more noticeable and starts to become a nuisance.
A hair transplant is a solution for starting baldness. With a hair transplant you permanently fix bald and thin spots. Hair we move continues to grow for a lifetime. Please note: a hair transplant alone does not completely stop hair loss. We can inform you during a free consultation about the possibilities to do something about this.
Fue  Hair transplant
"More guidance and attention to the present and the future"
A hair transplant does not always have to be the first solution.
How does a hair transplant work
In a hair transplant, the hair follicles are moved from the hair crown to the coves or crown. Hair follicles are also called grafts and can contain one to four hairs.
The hair wreath is located on the sides and back of the head. The hair follicles in this area do not fall out and are also not affected by the hormone dihydrotestosterone (DHT), which causes hair follicles to die prematurely. This hormone is often the reason that men become bald later in life. The entire hair follicle, including DNA, is transferred. This means that the hairs never fall out again with such a hair transplant.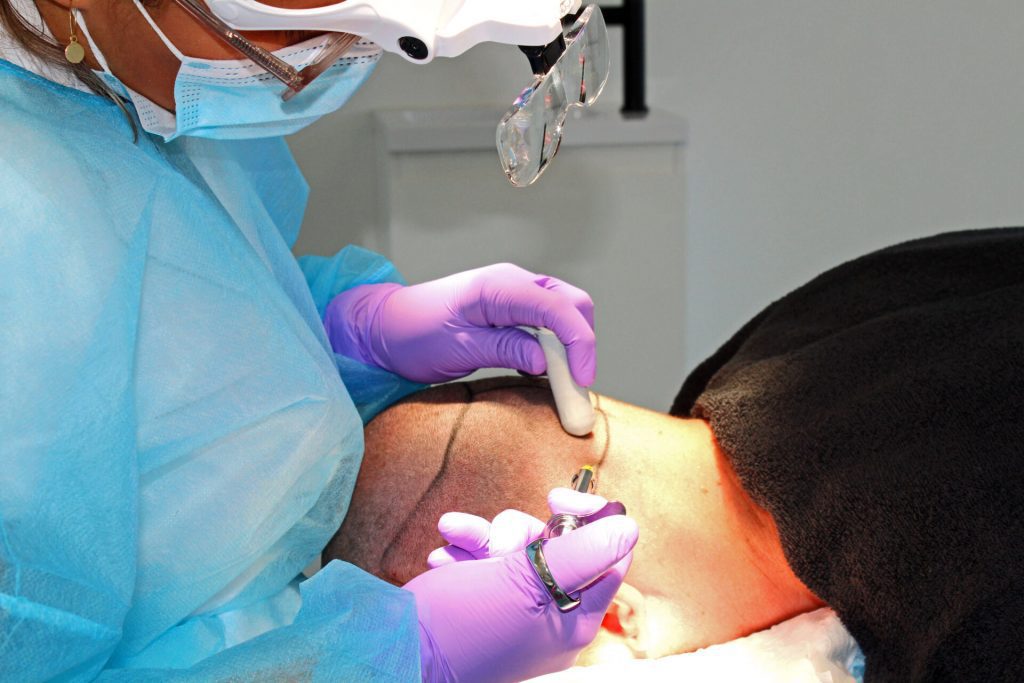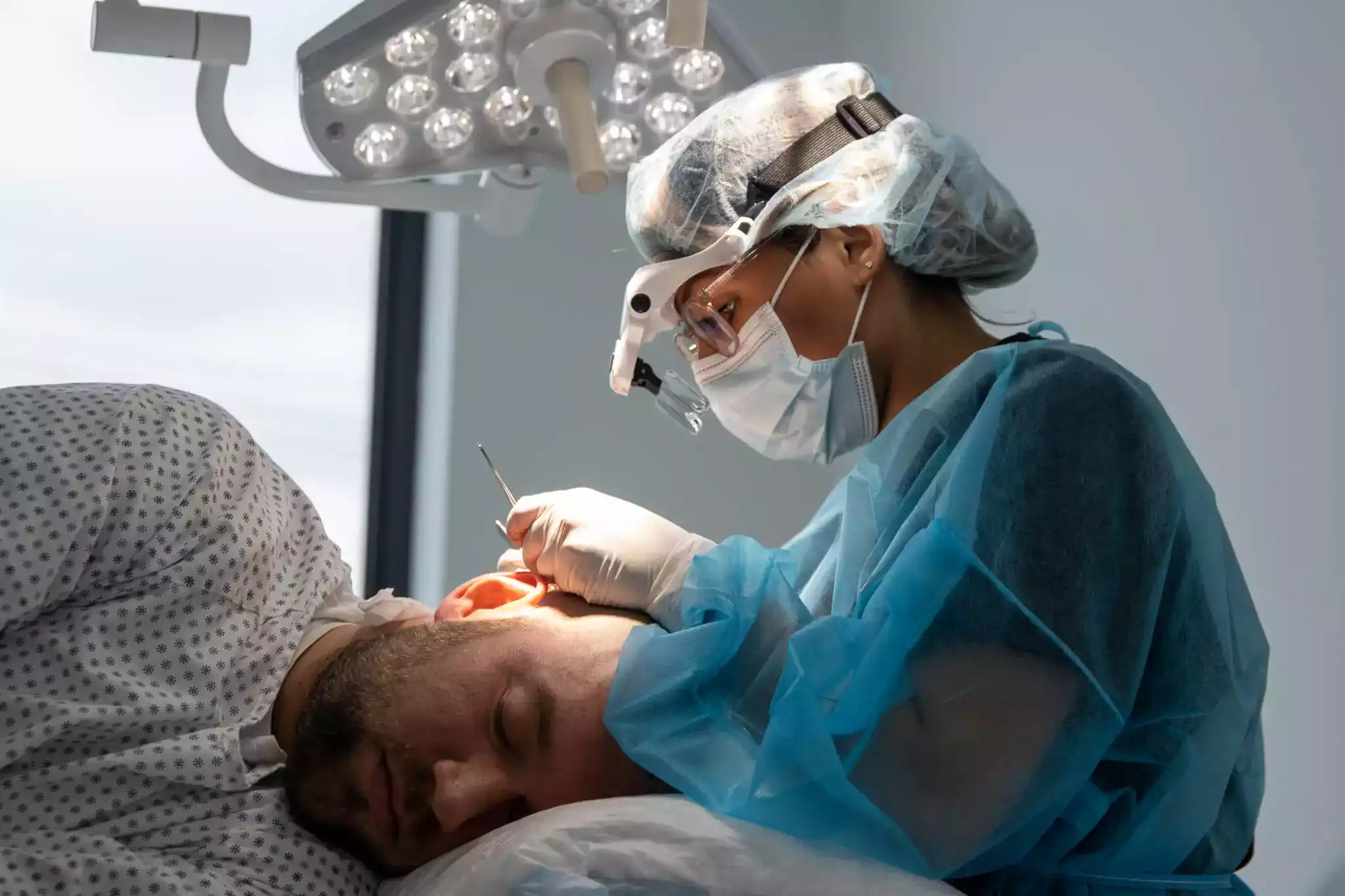 How does a hair transplant work?
Your scalp will be numbed locally, because the hair transplant can take a long time. The anesthetic can be performed without needles.

A hair technician removes the genetically good grafts – hair follicles with hair and stem cell – from the donor area with extreme precision. This extraction is done with a special small hollow needle with a diameter of about 0.7 mm. The grafts are removed with tweezers and temporarily placed in a special liquid.
The doctor then makes small holes in the placement area. These are also called incisions. This must be done very precisely to ensure that the hair implants can be placed correctly and eventually have a natural growth direction.
During the hair transplant, we perform an additional treatment to ensure that the growth factors around the receiving area are improved. This enhances hair growth.
After making the incisions, the grafts are replaced by the hair technician using tweezers.
Then follows the aftercare for the hair transplant in the clinic and further aftercare is discussed at home.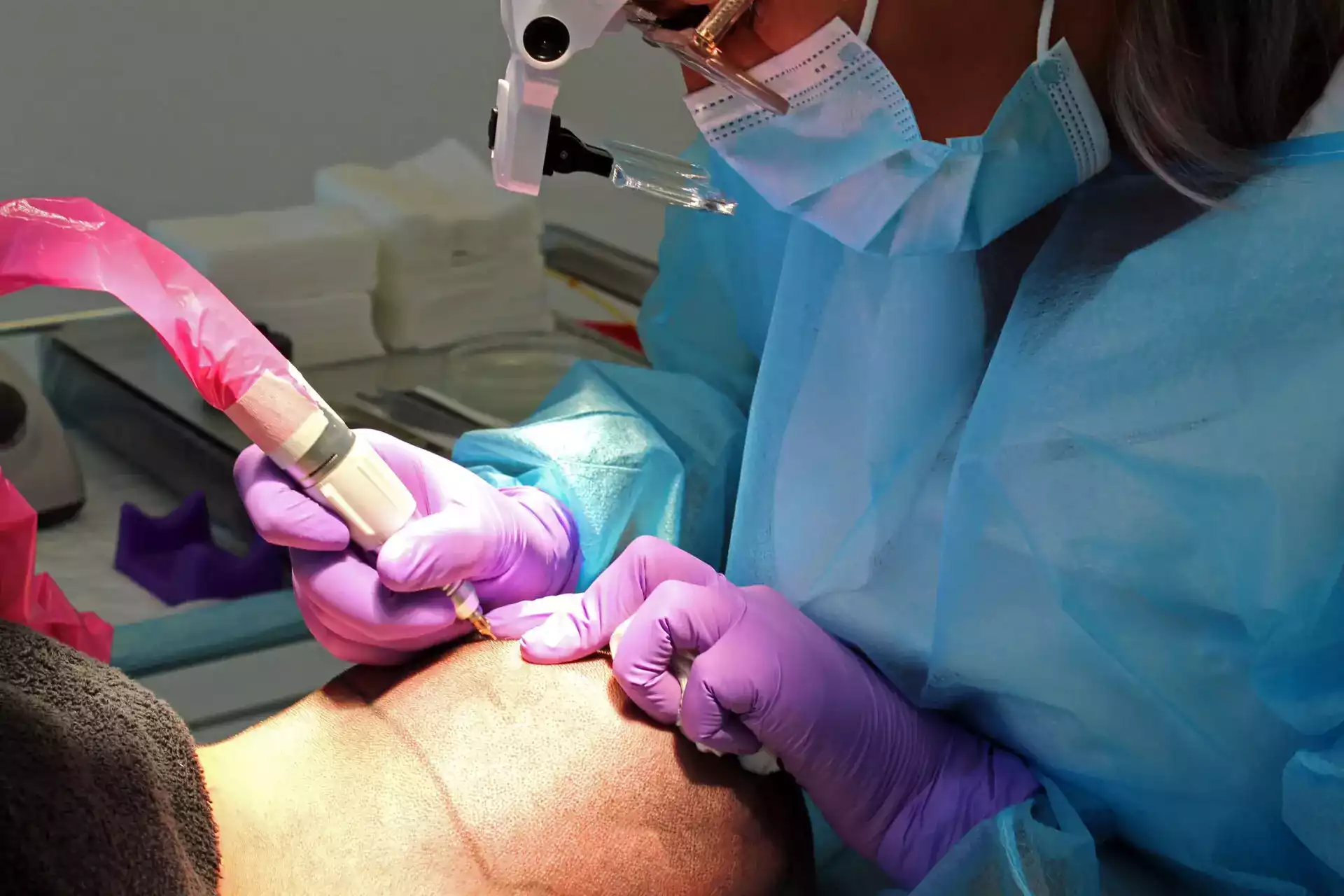 A hair transplant is a proven and safe treatment that you will enjoy for the rest of your life.
Hair transplant treatments at Omorfy​
At Omorfy we offer the following hair transplant treatments for men and women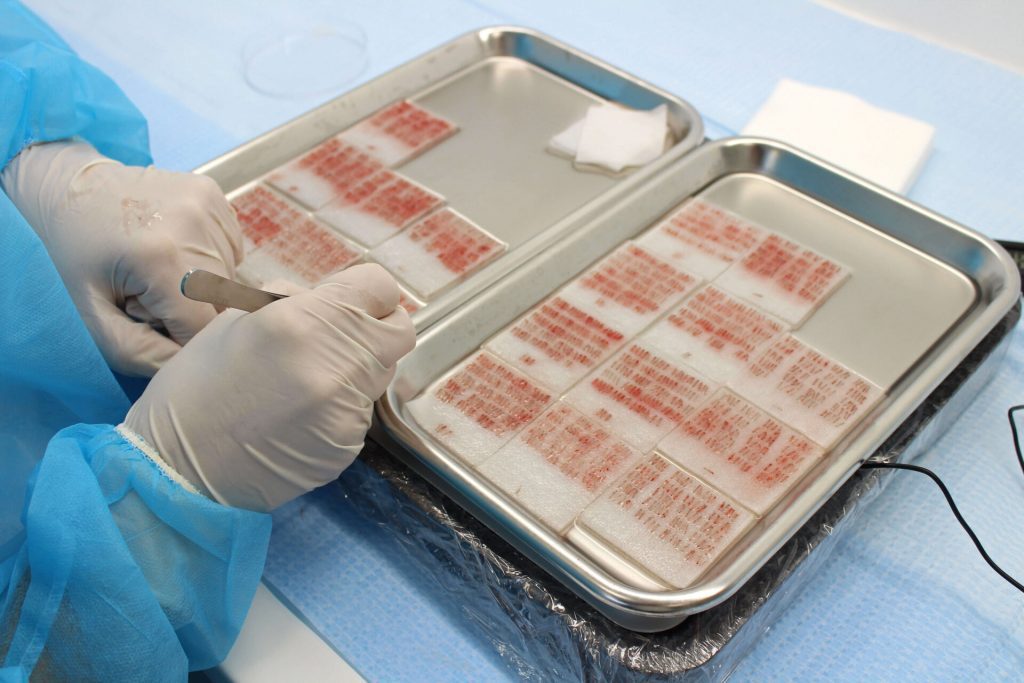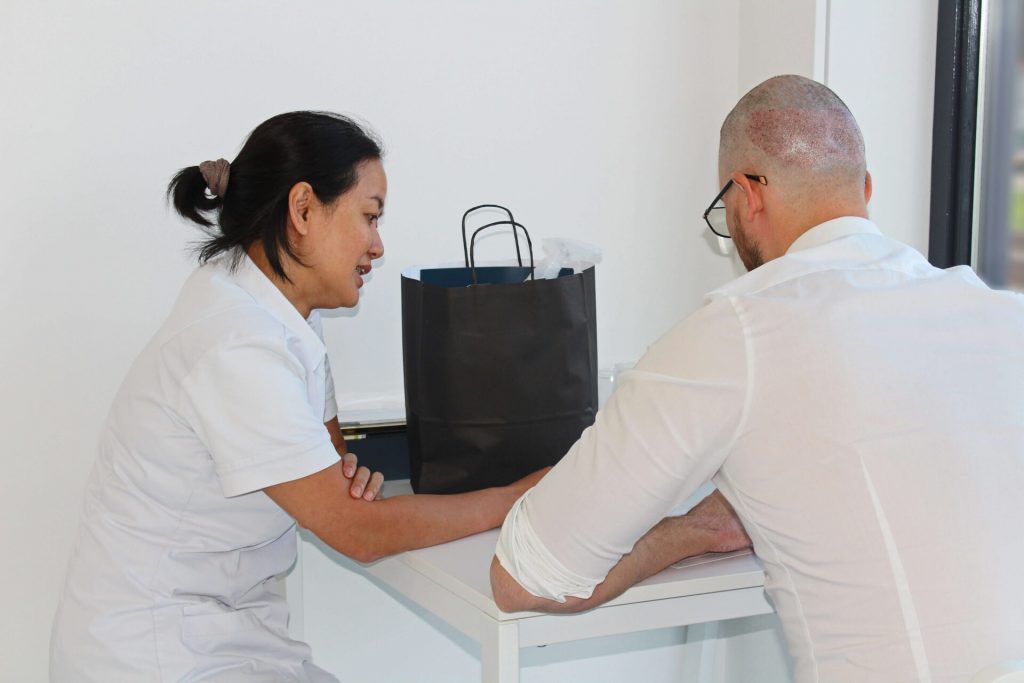 Can a hair transplant do what I want for me?​
That is the first question we answer during a consultation. People differ in origin, skin and just as much in hair. This makes a difference for hair transplantation. In addition, there may be other physical factors that may influence the quality of the transplant. This applies, for example, to the quality of the hair crown and the size of the donor area. All these things and more play a role in the result to be achieved.


An important question for you is whether this result matches your expectations. At Omorfy we can perform treatments for most situations and types of hair. Make an appointment without obligation to find out whether hair transplantation is suitable for you.
Hair transplantation methods FUE and FUT
At Omorfy we go for beauty. This is the reason that we only perform the FUE hair transplant. We tell you why we choose the FUE method and not the FUT method.
There are basically two methods for hair transplantation:​
FUE stands for Follicular Unit Extraction. FUE hair transplantation is a method in which the hair follicles are removed piece by piece from the hair wreath with a very small hollow needle. If performed properly, no more scars will be visible after this. As mentioned, Omorfy only applies FUE hair transplants.
The quality of treatment is determined by many factors:
With a hair transplant with FUE, all hair follicles, or grafts, are drilled out one by one with a hollow needle. This hollow needle has a diameter of 0.7 mm and therefore loosens a group of hair roots at a time and then removes them. The direction in which the hair follicles are drilled and extracted is important for the quality and survival rate of the implant to be transplanted. An experienced hair technician can determine the exact angle with this meticulous extraction method.
Using tweezers, the hair technician removes the pouch from the scalp. The grafts are then placed in a special liquid in which the hair roots are kept healthy until the moment of implantation
Omorfy continues to invest in the FUE hair transplant method by regularly conducting in-depth investigations, among other things. For example, we store the hair follicles between removal and implantation in a special liquid. We also conduct research into better shelf life and nutritional value of this liquid.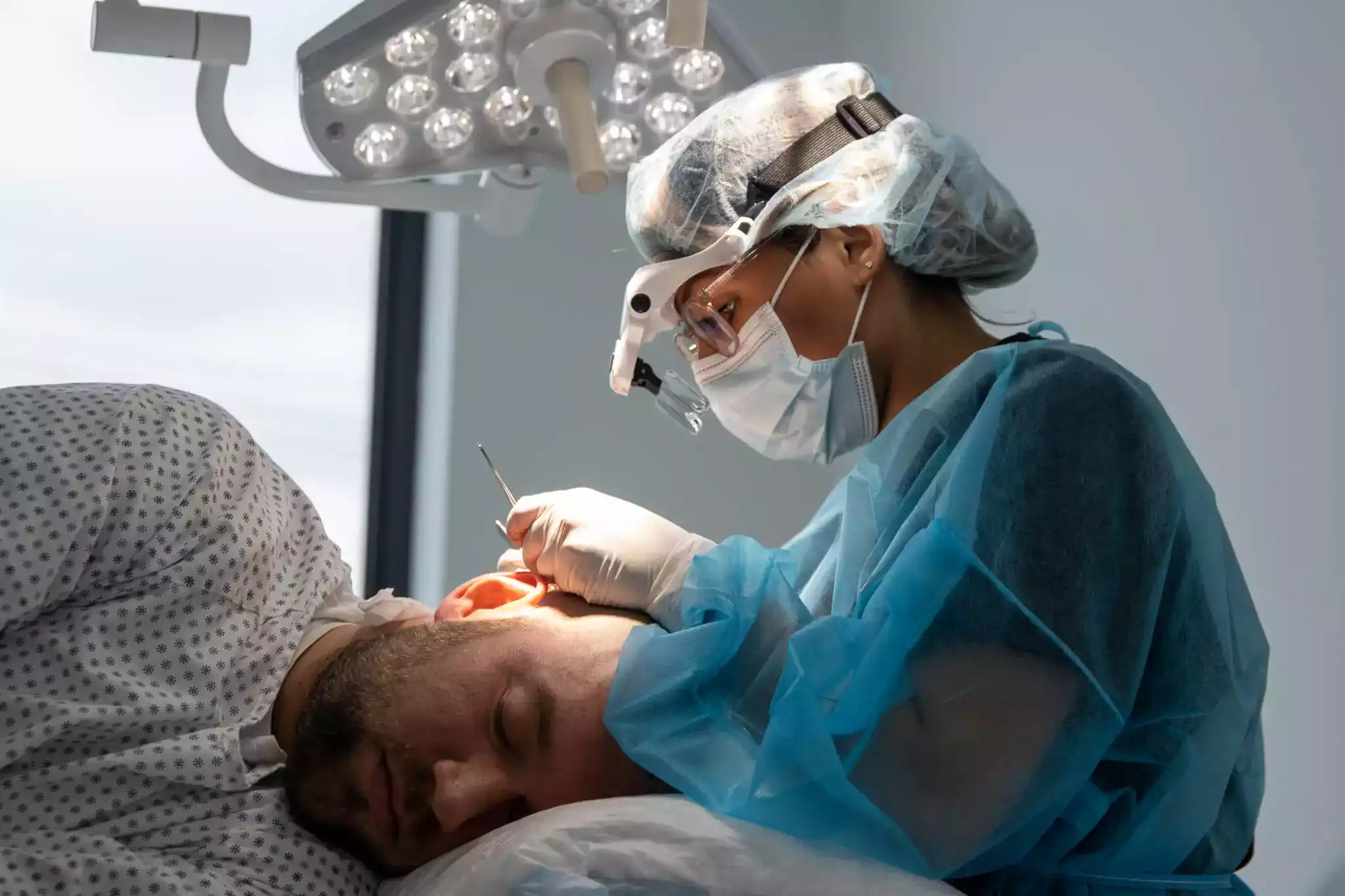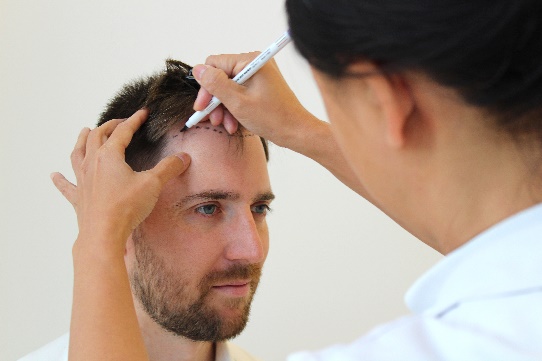 FUT or FUE hair transplant?​
The difference between a FUT and FUE hair transplant is mainly the way in which the grafts are extracted. As explained earlier, at FUE hair transplants, we remove the grafts individually from the donor area. In the FUT method, a surgeon removes a strip or strip of scalp from which the hair follicles are then extracted. Logically, this always leaves a scar. This is therefore the biggest disadvantage of 'strip' or FUT method.
This method dates back to the 1960s when hair transplantation was only available to a limited audience. In the last 20 years, hair transplantation has become internationally popular. Especially the development of the FUE hair transplant technique caused this positive trend. With a hair transplant according to the FUE method, no visible scars are left behind.
Omorfy goes for beauty, performed with the latest technology. The FUT method has contributed to an important development in hair transplantation in the past, but does not fit with the Omorfy philosophy.
The possibilities of hair transplants
The first step for a hair transplant is always a free consultation. This involves checking whether the client is suitable for treatment and what the expected result will be. A consultation can also take place remotely. It is necessary to send photos of the area to be treated. Based on the collected information, we can estimate the costs.
If the client is interested, we will coordinate the entire process in consultation. From intake to aftercare at home and even any washing treatments at Omorfy.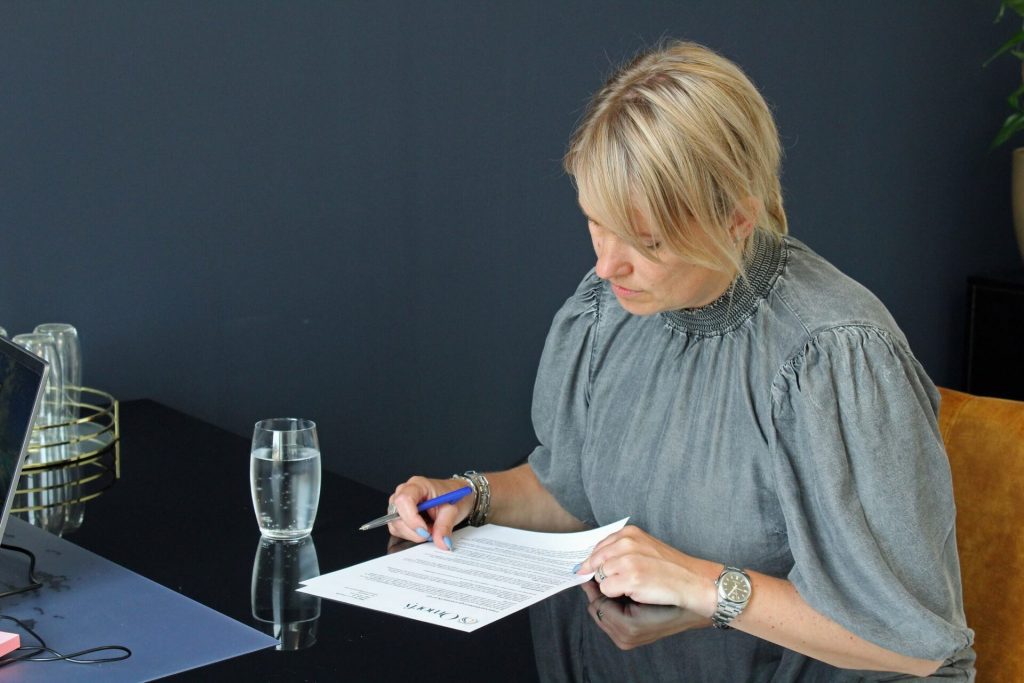 Frequently Asked Questions
If you have a question that is not listed here, please contact us.
Ik had flinke inhammen en een kruin die steeds kaler werd. Op mijn kruin zaten nog wel wat "baby" haartjes maar zeker niet dekkend. Mijn situatie was aardig stabiel gebleven de laatste jaren dus heb ik besloten over te gaan tot een haartransplantatie. Na slechts 6 maanden heb ik al een mooie kuif! Ik krijg veel complimenten en ben echt super tevreden.
Op 27 augustus 2021 heb ik een haartransplantatie laten doen bij Omorfy in Bunnik. De reden waarom ik een haartransplantatie ben ondergaan is uiteraard, omdat mijn haar wat meer aan het uitdunnen was, met name de inhammen en iets bij mijn kruin.
Ik heb destijds veel onderzoek gedaan naar de verschillende klinieken, want er zijn er telbare. Uiteindelijk ben ik op gesprek gegaan bij Omorfy en heb mij daar laten vertellen wat de mogelijkheden zijn, op welke manier en wat de kosten zijn. Je komt als herboren uit de stoel, dat is echt heel prettig.
Bij Omorfy had ik vanaf het begin al een goed gevoel. Ze zijn heel open over hun technieken die ze gebruiken en dat vind ik erg belangrijk. Inmiddels ben ik 9 maanden verder en mag het resultaat er al wezen!
Would you like to know more about the possibilities of a hair transplant?
Would you like to know more about the hair transplant options for you? Use the contact form or request a no-obligation consultation by phone. You can also contact us if you have any further questions about our working method. We are happy to help you!
"*" indicates required fields